Post by CSA FD on Apr 25, 2008 22:59:19 GMT -5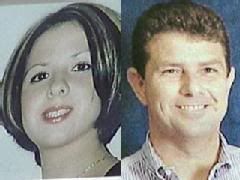 Student Dies At Professor's Home
Apr. 25, 2008
PHOENIX -- The parents of a college student who died at the home of her professor last weekend said their daughter was dead for two days before they found out.
Though a cause of death has not yet been determined, investigators said Andria Ziegler, 19, may have died of a drug overdose at the north Phoenix condo of her Paradise Valley Community College psychology professor, 51-year-old Michael Todd.
Ziegler's parents said the drugs would not have been her idea.
"He coaxed her into seeing him after she said she didn't want to, and I could see that he would try to coax her into something else," said Kimberly McManus, Ziegler's mother.
Ziegler had been taking courses from Todd for the past two semesters. Her father said Todd had actively pursued his daughter.
"She had confided in one of her friends that he had been asking her out for two months and that she had finally, I guess, gone out with him," Doug McManus said.
Ziegler was apparently spending the night at Todd's condo when she died. CBS 5 News learned that Todd called his neighbor, a retired nurse, sometime between 2 a.m. and 3 a.m. Sunday to ask her to perform CPR on his student.
Ziegler was pronounced dead around 3:30 a.m. Her parents said they were never notified.
The McManuses said they became worried when Ziegler failed to return home or answer her cell phone. After passing out missing person fliers Monday afternoon, Ziegler's parents said they contacted police, who told them their daughter's body was at the coroner's office.
Detective Stacie Derge clarified the delay by explaining that Ziegler's body arrived at the coroner's office with no identification. The medical examiner knew only Ziegler's name and had no information on how to reach her next of kin, Derge said.
Police said they were not investigating Ziegler's death as a homicide and were not looking for suspects.
Todd has been placed on paid administrative leave while PVCC officials investigate whether he broke school policies by having a relationship with a student. His attorney said Todd felt "incredible remorse and sadness because of what happened."