Post by CSA FD on Jul 29, 2008 0:47:14 GMT -5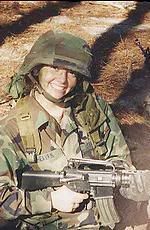 Hannah McKinney---Raped and Murdered in Iraq 2006
A young Army soldier lay alone in the dirt. She was alive, but barely. Her ribs had been crushed; her spleen, ruptured. Her right side was marked by the angular tread of a tire.
Pfc. Hannah Gunterman McKinney was married, 20 years old, the brown-eyed mother of a toddler son, when she was spotted in the headlights of a passing Humvee on a perimeter road at one of the largest U.S. military camps in Iraq.
Just months out of Army training, Hannah McKinney was deployed to Taji, north of Baghdad, with the 542nd Maintenance Company, 44th Corps Support Battalion. She was soon pulling shifts with a machine gun and a fellow soldier at guard towers along the camp's perimeter.
Not far from there, one hot September night, three sergeants gathered to celebrate the coming end of their tours, according to their statements in the case file. Among them was Damon D. Shell, then 25, a one-time high-school quarterback on his second tour.
Although alcohol was banned in the combat zone, one of the sergeants had managed to buy vodka, and they drank cocktails together that night in the barracks, according to the statements. Later, drunk, the sergeants piled into a Humvee to bid goodbye to a female tower guard, according to testimony.
It was 3 a.m. when the group stopped at McKinney's guard tower. Shell called her down, and she joined them in the Humvee.
According to Shell's statements, made during interviews and polygraph exams, McKinney got "really drunk after drinking just one glass" of vodka and orange juice in the barracks. When the other soldiers drifted off to bed, he and McKinney had a sexual encounter, he said.
Heavrin cringed to hear such details. McKinney had violated military orders, she knew, by leaving her post and drinking. To McKinney's mother, the sex did not fit in with her daughter's focus on her marriage. She thought of McKinney's low tolerance for alcohol. Her autopsy showed a .20 blood-alcohol level.
Shell told investigators he tried to return McKinney to her guard tower, but she "was in no shape" to go inside. It was about 5:15 a.m. when Shell asked her towermate, Pfc. Rachelle Anderson, to cover for them when the next shift arrived.
"I told him I would not be taking part in any of this," Anderson said in a statement.
Shell left the tower about 5:35 a.m. with McKinney in the 10,000-pound Humvee, drove down a dead-end road, then made a U-turn after he realized his mistake. Along that road, he noticed McKinney's door open and close, he said.
Back at the main road, he pulled into a gap in a passing convoy. In the seat next to him, he saw McKinney hunched forward. As he drove south, he heard the door open again and felt a familiar bump, where the dirt and gravel road became cement, he said. Unexpectedly there was a second bump, he said, "like I ran over something."
He looked. The door was open, and McKinney was gone. He tried to remember whether she had gotten out, but, he said, "I knew it was a possibility that I had run her over." He did not stop to check, he said in a statement. Shell drove to the barracks and went to bed as McKinney lay in the road, her clothes disheveled and one boot missing.
It was about 5:45 a.m. when two servicemen in a Humvee spotted her. At first glance, they mistook her body for debris.
Barbie and Matt Heavrin arrived in Texas for the court-martial last spring expecting a guilty verdict. They say prosecutors told them the case was a "slam-dunk" that would probably bring a prison sentence of seven to 10 years.
Shell had pleaded guilty to drinking, drunken driving and consensual sodomy. His attorneys said he ran over McKinney. In an earlier hearing, prosecutors had said that, even with immediate medical attention, McKinney had almost no chance of survival.
Prosecutors said the required degree of negligence was clear in "the totality" of Shell's actions — driving drunk in a war zone with an underage, incapacitated junior soldier to whom he had supplied alcohol and whose vehicle door he was the last to operate. "He failed in every single duty he owed to Pfc. Gunterman that day, and she's dead," said Maj. Scott Flesch, referring to Hannah by her unmarried name.
But defense attorneys framed the case as an accident that Shell could not have prevented. They brought in an accident-reconstruction expert who said Shell had not sped or swerved, as a prosecution witness had testified, and that the Humvee's faulty door was prone to pop open.
Just after 3:30 p.m., the judge ruled: Shell would be locked up for 13 months and demoted to private. He would not be discharged. Shell was confinement at Fort Sill, Okla.
With McKinney gone, Barbie and Matt Heavrin raise their grandson, now 3. McKinney's death benefit, $500,000, went to her husband. Under military rules, nothing was required to be put aside for Todd, who was born from an earlier relationship.
Hannah Gunterman McKinney
The September 4, 2006 death at Camp Taji of Private First Class Hannah Gunterman McKinney, 20, of the 44th Corps Support Battalion, Ft. Lewis, WA was investigated and rather than having been run over by a military vehicle as she crossed a road from a guard tower to the latrine as initially claimed by the Army, she fell or was pushed from and run over by a vehicle driven by a drunk Sergeant from her unit who had first sexually assaulted her.
Sergeant Damon Shell pleaded guilty to drinking in a war zone, drunken driving and consensual sodomy with an underage, incapacitated junior soldier to whom he had supplied alcohol. The sex, with a solider who had a blood alcohol of .20, could not begin to be "consensual". A military judge ruled that McKinney's death was an accident and the Sergeant was sentenced to 13 months imprisonment, demotion to private, but he would not be discharged from the Army.