Post by CSA FD on Oct 1, 2007 15:37:08 GMT -5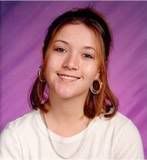 15 year old Ashley Erin Ouellette (1999)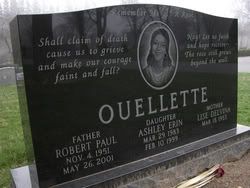 Saco, ME -- May 30, 1999 -- Someone knows the details, or knows enough, at least, to put an end to Lise and Bob Ouellette's anxious wondering.
Someone knows who killed their daughter, Ashley Ouellette and left her body in the middle of a road on a cold February night in 1999.
As time ticks by, slowly in the 100-plus days since their 15-year-old daughter was killed, the Ouellettes are anguished knowing that this murder case could be wrapped up with the right words from the right person.
"We still feel a few more people know a few more things. . . . I think some of these kids are afraid to say something," Bob Ouellette said last week. "You'd think someone would come forward. Regardless of whether it's my child or someone else's — it's frustrating."
Maine State Police detectives are reluctant to discuss the case in detail for fear of compromising the investigation. Sgt. Matthew Stewart, who is supervising the investigation, makes it plain they are looking for more information.
"We believe there are people who have direct knowledge, solid knowledge about what happened to Ashley," he said. "We need people to come forward."
In nearly four months of investigation, detectives have conducted more than 200 interviews, tested and analyzed hair and body fluids, fingernails and fingerprints, examined scraps of carpeting and upholstery and clothing and linens. They've poked through weeds and fished through rivers.
Detectives describe an investigation that is exhaustive, but not yet conclusive.
"We're not yet at a point where we can reach standards of probable cause (for an arrest) on any one particular person at this particular time," Stewart said. "It takes a lot of time and a lot of patience."
The Ouellettes are patient — and quick to express their confidence in the state police. They want a murder conviction and justice for their daughter. But they're willing to wait for it, if that's what it takes.
To date, the evidence points to something happening to Ashley after she arrived at the home of a Thornton Academy classmate a few hours before her death. What happened, exactly, is the gray unknown that plagues the Ouellettes.
Bob Ouellette is left theorizing — much as it pains him — about how and why.
"There were (several people) in the house . . . and it'll raise reasonable doubt," he said. "I know what the detectives are facing. It has to be conclusive."
"You do only have one chance," Lise Ouellette said. "And if you don't do it right, you don't get a second chance."
The Ouellettes learned that patience through experience after Lise's brother was killed in November 1995 when his car slammed into a steel I-beam being illegally transported in the middle of the night.
In December, the driver of the truck carrying the I-beam, and the company the driver worked for, were convicted of manslaughter for causing the deadly crash.
"We were waiting three years before we went to court for my brother," Lise Ouellette said. "The prosecutors would tell us to be patient and we were. The system takes time. . . . I would rather wait for justice than not get it."
Still, they say, the waiting is achingly hard.
Lise and Bob Ouellette, and their younger daughter, Lindsey, 12, are longtime Saco residents, well-known and well-liked. When Ashley was killed, the Ouellettes' family, their friends and the community at large rushed in with kindness and concern.
In recent weeks, a granite bench and a flowering Japanese cherry tree have been dedicated in Ashley's memory at Thornton Academy. Thousands of dollars have been raised: about $19,000 for the Ashley E. Ouellette Memorial Fund, a scholarship fund for Thornton Academy graduates; and more than $10,000 for the Ashley Ouellette Justice Fund, reward money for anyone who provides information leading to the conviction of Ashley's killer.
The Ouellettes are grateful and overwhelmed by the sympathy and good wishes.
But they also remain overwhelmed by the grief, of how very difficult it can be, some days, simply to get out of bed in the morning.
Lise Ouellette said she feels at times that she's been pulled right off her bearings.
"Sometimes I feel like I am living in a movie. I'm here," she said, then waved her arm in front of her. "And the world is moving out there."
The death of a child cuts so deep that it's primal. "I can still feel the labor pains and remember seeing those little fingers for the first time," she said, unable to hold back tears. "My kids are my world. I still have two daughters as far as I am concerned."
Bob Ouellette struggles to put it into words.
"It just wipes you out," he said.
Money is still being raised for the Ashley E. Ouellette Memorial Fund, a scholarship fund, and the Ashley Ouellette Justice Fund, which provides rewards for information leading to the conviction of Ashley's killer. Donations to either fund can be mailed to Thornton Academy, 438 Main St., Saco, ME 04072. Unclaimed reward money will be contributed to the scholarship fund. Anyone with information about the Ashley Ouellette case can call Maine State Police at (800) 228-0857.
A snippet of music, anything really, can suddenly trigger a large wave of grief.
"And then you think about what could have been and what we're missing," he said, pain flashing across his open, kind face.
Deep down he is angry.
"Angry as hell," he said.
The publicity, too, has taken its toll.
As they drove up to Thornton Academy for the tree planting ceremony earlier this month, Lise Ouellette said she was dismayed at first to see all the media there.
"It just drained me," she said. "But, then I thought, 'I don't know what I can do, but I can do this.' . . . Maybe I can say something that will make a difference."
Maybe, just maybe, someone who knows something will take her words to heart and take action.
After the first announcement that reward money was being offered for information about Ashley's murder, state police received about a dozen calls, a small consolation for the Ouellettes.
Stewart said a steady stream of information continues to flow to detectives.
"It's still an open, active case being aggressively pursued," he said. "A week does not go by that we don't receive new information."
But the full court press that marks the early days of any homicide investigation is over. Although as many as 30 detectives worked the case at the start, now two detectives are assigned to it.
"Two detectives are assigned full time to this case, but that's not to imply that's the only case they're working on," Stewart said. "Since Ashley was killed, there have been six other homicides in this area."
The detectives continue to focus on the last hours of Ashley's life, the little more than three hours between the time she arrived at a classmate's home on Mast Hill Road in Saco and when she was found several miles away on Pine Point Road in Scarborough.
Ashley had permission from her parents to spend the night of Feb. 9 at the home of her friend Alia Page. Around midnight, Ashley left the Pages' and headed to 50 Mast Hill Road, hoping to see Steve Sanborn, a former boyfriend who is the older brother of Daniel Sanborn, one of Ashley's Thornton Academy classmates. A friend of the Sanborns, Christopher Cote, also was staying there.
Detectives say Muriel Sanborn, the boys' mother, saw Ashley about 12:30 a.m. when she gave her bedding to sleep on the couch outside her sons' bedrooms in the basement, according to court documents.
About 4 a.m., Ashley was found dead in the middle of Pine Point Road by a passing motorist. The motorist said Ashley's body was blue, but still warm, and there was a small amount of blood by her nose and mouth. Detectives later reported Ashley had been strangled.
Police were granted search warrants for the Sanborns' home and the Eagle Summit usually driven by 16-year-old Daniel.
Inside the car, detectives had seen dry brown grass akin to what was found on Ashley when her body was discovered. They also found a gold ring, a black blouse, fingernail particles, a scarf and hair, court documents show.
Inside the Sanborn house, detectives said they noticed a trail of blood droplets in the kitchen and they seized carpet and upholstery samples, a purple cord and bedspread, jewelry, a condom and a pillow with a stain, according to police. Police also took tissue, hair and fingernail samples and clothing from Daniel Sanborn.
The Sanborns have not commented on the case.
Stewart will not discuss what tests of the evidence revealed, nor would he describe anyone in the Sanborn house that night as a suspect. He does, however, emphasize that they are "unable to place Ashley alive outside the Sanborn residence."
UPDATE
May 30, 2001 -- Robert Ouellette never lost faith in people even after his 15-year-old daughter Ashley was killed.
And after Ashley's death two years ago, he never stopped lost faith that those responsible would be brought to justice.
Following his own death by heart attack Saturday, May 26, 2001, at age 49, many in Ouellette's tightly knit community are committed to finding Ashley's killer and help the family cope with another loss.
''This shouldn't be left unsettled,'' said Thomas Ouellette, Robert Ouellette's brother. ''Bob felt very strongly about having answers. He was seeking justice and we will continue to support that endeavor.''
No charges have been filed in Ashley's death.
The family will pursue a wrongful-death lawsuit filed in February against Earl Sanborn Jr. and Muriel Sanborn, the Saco couple in whose home Ashley spent her last night in February 1999. Ashley had been friends with the Sanborns' two sons, Steven and Daniel.
The Sanborns filed for Chapter 7 bankruptcy last month, a move that halted the Ouellettes' civil case days before the Sanborns were to be deposed.
David Benemen, the Ouellettes' lawyer, said he is seeking a court order to free the civil case from the bankruptcy proceedings.
''We will carry on,'' Benemen said.
Ashley Ouellette was found strangled in the middle of Pine Point Road in Scarborough on Feb. 10, 1999.
Maine State Police said they are optimistic about solving the case.
''We have our theories as to what took place and we are working to prove our case,'' said Sgt. Matthew Stewart.
The death of Robert Ouellette shocked his family and friends. His brother passed a physical two weeks ago and had not shown signs of heart disease, Thomas Ouellette said.
''I'm sure there was a lot of stress, but Bob didn't show it,'' said Arthur Tardiff, a Saco city councilor and an associate Realtor at Prudential Prime Properties, the Ouellettes' real estate firm.
Had Ashley lived, she would have graduated Sunday from Thornton Academy, her father's alma mater. Class officers will place a bouquet of roses on an empty seat in the front row in honor of her memory.
''We hope that someday we'll have an answer for Ashley's case,'' Thomas Ouellette said. ''My family needs some good news.''