Post by CSA FD on Dec 2, 2008 15:36:35 GMT -5
AMW FUGITIVE DATA FILE FOR
Michael Brenton Wilson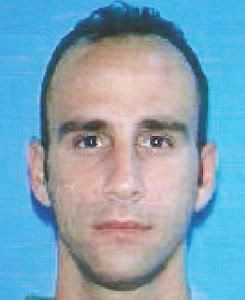 Cops: Sexual Predator Flees Courtroom, Tried In Absentia
In late September 1998, cops say sexual predator Michael Brenton Wilson had just found his next target.
He was at his favorite spot, a strip club that he frequented near Myrtle Beach, S.C., and police say he had his sights set on a new girl -- a dancer who had just been on the job for a few days.
Wilson's girlfriend, another exotic dancer at the bar, was away for the night, interviewing for a job at a different club.
Police say he approached the new dancer and offered to buy her a drink.
Cops say the club doesn't usually allow that, but Wilson was trusted because he was a regular.
But on his way to the VIP room with the girl for a lap dance, cops say he slipped the date rape drug GHB into her shot of vodka.
Police say Wilson seized the opportunity to take advantage of the drug's debilitating effects.
The drug gave others the impression that the girl was embarrassingly drunk, and police say Wilson spoke with the bouncer and offered to give her a ride home.
Since Wilson was known and trusted at the club, cops say the bouncer agreed to let him take her.
But cops say Wilson didn't intend to take the girl home.
Instead, he took her back to his girlfriend's apartment where cops say he raped her while she was unconscious.
When she woke up, she knew something was wrong and asked for a ride home.
Authorities investigated the woman's claims that she had been raped, and Wilson planned to take off.
But before he left, cops say he contacted his girlfriend.
Police tell us that Wilson asked her if the cops had found an incriminating roll of film he had hidden in the couch.
A Girlfriend's Shocking Discovery
When she developed the film, Wilson's girlfriend found a shocking and sick souvenir: photographic evidence of Wilson raping the dancer.
Cops say she promptly turned it over to the police and volunteered to testify against him.
While the jury was being picked for his trial, cops say Wilson escaped from the courthouse after asking to go to the bathroom.
And authorities say he has been on the run ever since.
Cops say Wilson fled the state with an illegal alien, a 28-year-old Lithuanian woman named Vitalija Kairyte Vassey.
He was convicted of the heinous crime in Absentia -- in what was the first GHB trial in the state -- and Wilson has a sentence waiting for him when he's found.
But Wilson's history of despicable crimes doesn't end there; investigators say he has a history of sex offenses, involving minors.
Cops: Wilson Has History of Sex Crimes
Just a month before the rape of the exotic dancer that summer, cops say Wilson set his sights on a 15-year-old-girl visiting Myrtle Beach with her friends and family.
Cops say Wilson cozied up to the young victim and her 16-year-old friend, hanging out near their hotel and showing off his motorcycle.
He eventually invited them back to his apartment, giving them strong drinks over the course a few days.
Wilson then took advantage of the girls' inexperience. Police tell AMW that he waited until one of them passed out, then pretended to call the girl's mother to tell her the girl was safe.
Wilson then invited her friend into his room under the pretext of talking to her, but instead, police say he raped her while she begged for him to stop.
Now, police want to prosecute Wilson for this cowardly crime before he strikes again.
"We really want to get this guy," said Georgetown, S.C. investigator Stephen Brown. "He's our bin Laden."
Wanted For:
Information valid as of last update.
Criminal Sexual Conduct 1st Degree, Horry County, SC; Sep 30, 1998
Criminal Sexual Conduct With A Minor - 2nd Degree, Myrtle Beach, SC; Aug 13, 1998