Post by CSA FD on Apr 4, 2009 14:18:57 GMT -5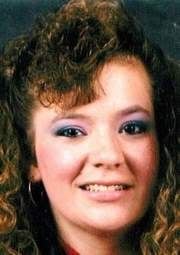 (Angela Hammond 1991)
Tips still trickle in from 1991 abduction
Apr. 4, 2009
It's been 18 years since Angela Hammond was abducted from a grocery store parking lot in Clinton.
The 20-year-old bank worker, recently engaged, was talking to her fiancé on a pay phone April 4, 1991. It was late, so when a suspicious-looking man in a green truck pulled into the lot and approached another booth, Hammond started relaying details over the phone.
Moments later, the conversation ended with a scream. Despite several weeks of intense searching, Hammond was never seen again.
After almost two decades, Clinton police haven't given up.
"We really don't consider this to be a cold case at this point," said Clinton Police Sgt. Paul Abbott. "We've been working on this case diligently for the last 18 years. On occasion we have fewer and fewer leads, but here recently it seems like there's been renewed interest by the public ... "We feel like this is an open, active investigation right now."
Abbott and other investigators hope renewed public attention, as well as advances in DNA testing and other forensic techniques, will help identify a suspect and shed light on Hammond's fate.
"Once we started talking about it, everyone else started talking about it, too," Abbott said. "We would get a trickle of a lead here, a trickle of a lead there ...
"Now it's not uncommon for us to get two or three new and different leads on this case every single week."
Mother Wants Closure
Initially linked to two other kidnappings in early 1991, Hammond's abduction preceded Springfield's three missing women case by 14 months.
Although unrelated to the June 7, 1992 disappearance of Stacy McCall, Suzie Streeter and Sherill Levitt, Hammond's abduction had a similar effect on the Clinton community.
"This is apple pie America. Things like that just don't happen here," said Hammond's mother, Marsha Cook.
Cook -- who befriended Stacy McCall's mother, Janis, and appeared with the Springfield woman on a 1992 episode of Oprah Winfrey's television show -- said she just wants to find out what happened to her daughter "and bring her home, one way or the other."
www.news-leader.com/article/20090404/NEWS01/904040337/1007